Premises Security and Liability Manual: A Comprehensive Guide from the Experts
A two-volume reference set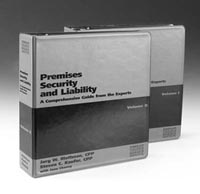 Nationally recognized Security Experts, Risk Managers & Litigators reveal the most effective methods and ways to avoid or reduce law suits involving claims of inadequate security or security negligence. An essential addition to the library of every Security Director, Facility Manager Safety Director, Corporate Counsel, Risk Manager, Security Consultant, Special Events Promotor, Litigator, Property Manager, Architect, and Forensic Consultant. As anybody who earns his/her living in any of these occupations knows, defending claims of security negligence and inadequate security is getting costlier and more frequent.
For the first time, some of the nationís most respected and experienced experts in premises security and liability share their invaluable knowledge in one publication. Over 20 leaders in their respective fields provide proven and effective information that will enable the reader to reduce or eliminate the potential of law suits.
The two-volume manual is just $261.00.
---
The Complete Workplace Violence Prevention Manual
A two-volume Manual with quarterly updates and a monthly newsletter
Ongoing information and news on putting together a company plan, training staff, security program assessment, pre-hiring procedures, ADA and discrimination issues, disciplinary procedures, termination liability and insurance, written administrative policies, predictors of violence, security program design, causes of workplace violence, legal issues, and more.
Companies throughout the country are writing or updating violence prevention plans. These plans must be comprehensive to be effective, they must cover violence prevention from all angles. The ongoing nature of this Manual - updated quarterly with a monthly newsletter - makes it the must-have publication for security, risk management, human resource, legal and EAP professionals, even those with prevention programs in place.
The two-volume manual with one-year subscription is just $495.00 plus $16.00 shipping.
The two-volume manual without newsletters is $395.00 plus $16.00 shipping.

---
Model Policies
A comprehensive 32-page booklet
This booklet covers effective policies that are working for other organizations, including: Harassment and Workplace Violence, Conflict Prevention, Sexual Harassment, Workplace Security, and Drug Free Workplace. These model policies will assist in the development of effective programs for your organization.
Available for $29.95 plus $3.50 shipping.
---
We Never Thought it Would Happen Here...Preventing Workplace Violence
A 16-page overview
This is an introduction to workplace violence and a guide to establishing a program to reduce its likelihood in the work environment. Issues raised include: the seriousness of the problem, legal issues, developing a prevention program, policies and training, physical security, a resource guide, and more.
Only $13.95 plus $3.50 shipping.
---
When Tragedy Strikes at Work
A 23-page Guide
A supervisorís guide to handling trauma in the workplace is packed with valuable information on minimizing the impact of tragic events. Topics include dealing with the death of a co-worker, supervising an employee that may be suicidal, helping employees recover from an assault, the effects of domestic violence at work, and other critical subject. This booklet is full of practical information that will reduce stress and trauma at work.
Available for $18.95 plus $3.50 shipping.
---
Resolve Conflict in the Workplace
A multi-color poster
This 17" x 22" poster presents 12 proven methods to avoid and resolve conflict in a work environment; conflicts that can often escalate to incidents of occupational violence. Ready to display in employee work areas and break rooms, providing a source of this vital information.
Available for $8.95 plus $5.25 for shipping in a sturdy tube. Each shipping charge good for up to 5 posters. Quantity discounts available for 20 or more posters.